Bridal Registry
THE HONEYMOON REGISTRY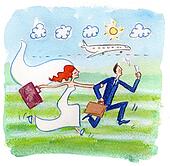 EACH ONE OF OUR BRIDES AND GROOMS ARE AS UNIQUE AS THEIR HONEYMOONS
Our Honeymoon Registry is a special way of assisting an engaged couple with a gift they really want. Not only are you purchasing a gift, you are giving a lasting and life long memory. You are a dream maker.
Our Registry is Simple
Cash or check: This is the most cost effective way as no surcharges are taken from the gift as when a card is used (but also accepted). It also allows the honeymooners the opportunity, once their goal is met, to receive the excess back in cash, to use toward expenses on their honeymoon.
To either sign up for your registry, or make arrangements for a Gift Certificate, you may stop in, call or email us at:
Birkmayer Travel
1520 6th Ave Suite 5
Troy, NY 12180
518-272-2650